Declaration of accessibility for IIRC web site
How does site accessibility work?
The site has an accessibility menu, – One Click Accessibility , Click accessibility bar.
What is on the accessibility bar?
Font resizing
Increase / decrease
Shades of gray
Reverse contrast
High contrast
Bright background
Highlighting links
Readable font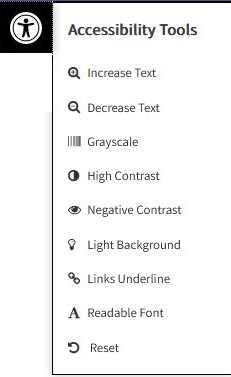 The accessibility menu works in popular browsers: Chrome, Firefox, Explorer 10+, Safari, Opera. Browsing in the accessibility mode is recommended in the browser common among surfers: Chrome. In other browsers there may be incompatibility due to the incompatibility of the browsers themselves to fix.
Contact
If while browsing the site you encounter a special accessibility issue, we would be happy to receive feedback via email info@IIRC.tech
Clarification
Despite our efforts to enable browsing on an accessible site for all pages of the site, pages on the site that have not yet been accessed, or that the appropriate technological solution has not yet been found, may be discovered. We apologize for this in advance. As part of our vision, we continue our efforts to improve the accessibility of the site, as much as possible, based on the highest value perception of the possibility of using the site for the entire population, including people with disabilities.
Last updated: October 2022